Community Spotlight: Noa & Co. – Redefining Salon Essentials with Sustainability
In the world of salon essentials, one brand is making waves with its commitment to sustainability and high-quality products. Noa & Co., founded by a seasoned hairdresser with 20 years of experience, is on a mission to redefine the salon industry's essential tools while minimizing waste and promoting eco-friendly practices.
A Vision for Change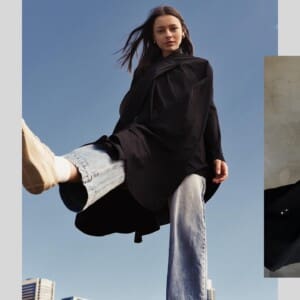 Chenoa, the founder of Noa & Co., has seen firsthand the waste that the salon industry can generate. As a salon professional, she felt the need to counteract this issue while still delivering high-quality, luxury products. This led to the birth of Noa & Co., a luxury salon attire brand rooted in sustainability.
The ELVTE Haircutting Cape
The first product to be launched by Noa & Co. is the ELVTE haircutting cape. This innovative product was developed with both the hairstylist and the planet in mind. The design eliminates the bulky material across the back, making haircutting and styling easier for the stylist and solving common issues faced daily with traditional cutting capes.
What sets the ELVTE cape apart is its material. Sourced from credible textile manufacturers, the cape is made from high-quality recycled pre- and post-consumer plastic. This is a testament to Noa & Co.'s commitment to sustainability and reducing waste.
A Sustainable Salon Environment
Chenoa is excited to introduce Noa & Co. to the salon professional world and is eager for everyone to try the ELVTE cape. She believes that together, they can help create a more sustainable salon environment. The brand is also looking forward to expanding its color line and launching more sustainable products for hairstylists seeking eco-friendly options.
Giving Back
Noa & Co. is not just about creating sustainable products; it's also about giving back. The salon capes are made from recycled materials that would otherwise end up in landfills or oceans. The company is closing the loop on plastic waste with its buyback program, ELVTE reNEW, and is donating 1% of its profits to Healthy Seas, an ocean conservation initiative.
The Future of Salon Essentials
Chenoa sees the future of salon essentials becoming greener. Building awareness around the staggering amount of waste from the beauty industry is challenging, but she has seen more salon owners and hairstylists committed to making changes thanks to brands rallying around greener practices.
The response to Noa & Co.'s eco efforts has been overwhelmingly positive. The brand is empowering hairstylists and salon owners by providing a sustainable solution for their salon attire. The ELVTE salon capes are just the beginning, and the future looks bright for Noa & Co.
Chenoa is inspired by other brands like Reverie, JVNHair, Green Circle Salons, and Cult & King, which are also opting for more eco-friendly practices. She believes that together, they can make a significant impact on the salon industry and create a more sustainable future.
Stay tuned for more exciting developments from Noa & Co. as they continue to redefine salon essentials with sustainability at the forefront.