Community Spotlight: Done by Kay – A Journey Towards Sustainability
In our community spotlight today, we're excited to introduce you to a hairdresser who's making a significant impact not just on her clients' hair, but on their lives and the environment as well. Meet Kay, a Certified Sustainable Salon Owner who's just entered her 13th year in the industry.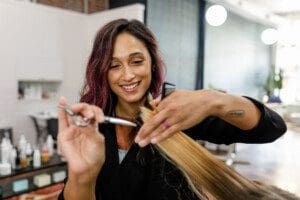 Kay's journey in the hairdressing industry is a testament to her commitment to authenticity, inclusivity, and sustainability. Her salon is a safe space where clients are always welcome to be themselves. Kay's approach to hairdressing goes beyond the physical; she's there for her clients through life's ups and downs, offering advice, a listening ear, or even just a good old-fashioned venting session.
In 2021, Kay took a significant step in her career by leaving a corporate salon she had been with for almost 10 years to become an independent stylist. This transition allowed her to focus on a growing desire to be more sustainable in her profession. After years of witnessing and participating in the improper disposal of beauty waste, Kay knew she needed to do better.
Her research led her to Green Circle Salons, a game-changer in her journey towards sustainability. Becoming a certified green salon was a proud moment for Kay, and her clients were equally excited to be part of this initiative. But for Kay, being sustainable is so much more than just recycling. It's about changing the way people perceive the beauty industry and making them aware of the impact of beauty waste on the planet.
Kay runs a program in her salon where clients can bring in their beauty waste for recycling, and in return, they receive a discount on their services. Many of her clients are not just after the discount, but they love the fact that they now have a way to make a difference.
Being a Certified Sustainable Salon has changed the way Kay does business. She recycles her beauty waste, uses EcoHeads to help with water usage, and opts for plant-based cleaning products and sustainable bamboo paper products. When looking for new brand partners, Kay prioritizes those that share the same core values about the impact of beauty waste on the environment.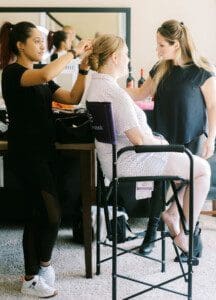 Kay believes that it's not about making massive changes, but rather about everyone making small, consistent changes. She encourages everyone to start recycling plastic, using reusable bags, and buying plant-based detergents. Step by step, little by little, we can all make a change.
Kay's dream is to make sustainability mandatory in the beauty industry, starting with education in beauty schools, adding it to boards and testing, and providing the tools and resources to salons/spas to maintain sustainability.
To learn more about Kay and her journey towards sustainability, follow her on Instagram and Facebook at @donebykay.
Let's join Kay in her journey towards a more sustainable salon environment!