Introducing Kimberly Loomis: A Journey Towards Green Beauty
We are delighted to introduce Kimberly Loomis, a trailblazer in the beauty industry and a passionate advocate for sustainability. Kimberly is the proud owner of Urban Posh Salon, a unique salon space that stands as a testament to her commitment to green practices.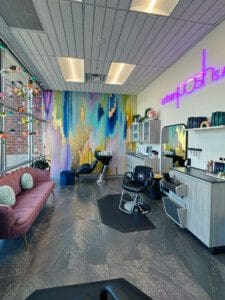 With a career spanning 20 years, Kimberly has made her mark in the industry in more ways than one. From working with international brands to styling for New York Fashion Week, her journey is as diverse as it is inspiring. Recently, she was recognized as one of the faces of Sola Salons for 2023, a testament to her influence and dedication.
Urban Posh Salon, located in Columbus, Ohio, is a beacon of Kimberly's commitment to sustainability. The salon is 100% cruelty-free and vegan, and it operates on a gender-neutral basis. Kimberly has made it her mission to reduce waste and energy usage in every way possible. She is a proud member of the Green Circle Salon organization, which allows her to recycle up to 95% of all salon waste. Moreover, the salon is 100% carbon neutral, showcasing a strong commitment to environmental responsibility.
Kimberly's efforts to promote sustainability extend to every aspect of her salon. She has replaced her shampoo hose with an Ecohead, which reduces water and energy usage by up to 65%. Any extra color that is washed down the drain is biodegradable, minimizing the salon's impact on the environment. Even the plants in the salon are part of her green initiative – they are from the NASA clean air study and help filter out toxins found in salon environments.
Despite her accomplishments, Kimberly's journey has not been without challenges. She has faced the issue of greenwashing, where companies provide misleading information about their products' environmental benefits. To combat this, Kimberly prioritizes thorough research and aligns with brands that are authentic in their commitment to sustainability.
Kimberly's dedication to green practices has been met with overwhelming positivity from clients and the community. Her commitment to sustainability has not only made a significant impact on the environment but also inspired others to adopt similar practices.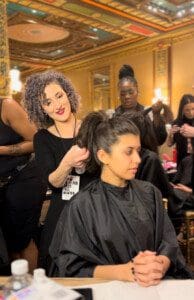 Kimberly Loomis is a shining example of how individual action can contribute to a more sustainable future. Her story serves as an inspiration for all of us to make more conscious choices in our daily lives and to strive for a greener world.
For more information about Kimberly Loomis and her work, you can visit her Instagram page at instagram.com/kimberlyloomis.
Stay tuned for more inspiring stories from our community members who are making a difference in the world of beauty and beyond.