Plaine Products is on a mission to tackle the pressing issue of plastic waste, particularly in the beauty and personal care industry. Founded by Lindsey, who spent a decade in The Bahamas witnessing the dire consequences of our disposable lifestyle, Plaine Products is a testament to change and sustainability.
A Personal Journey to Sustainability
Lindsey's experience in The Bahamas opened her eyes to the devastating impact of plastic waste on our environment. The sight of plastic littering the beaches, oceans, and roads was a stark reminder of the urgent need for change. This realization hit home when Lindsey looked around her own bathroom and saw the amount of plastic she had accumulated. Determined to make a difference, she reached out to her sister, Alison, and together they embarked on a journey to revolutionize the way we consume beauty products.
Commitment to Natural and Safe Ingredients
Plaine Products stands out for its unwavering commitment to natural, chemical-free ingredients. Lindsey and Alison spent a year researching and testing products until they found options that not only met their high standards for quality but also aligned with their mission to be completely chemical-free. Every ingredient used in their products is run through the Environmental Working Group's database to ensure they are safe and non-toxic.
A Vision for a Plastic-Free Future
The brand's tagline, "Refill, Reuse, Rejoice," encapsulates their vision for a sustainable future. Plaine Products encourages consumers to rethink their consumption habits, offering a practical and eco-friendly alternative to the traditional single-use plastic bottles that dominate the beauty industry.
Joining the Green Beauty Community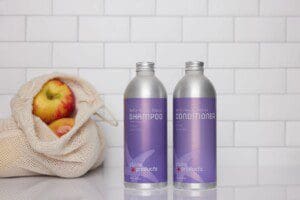 The Green Beauty Community is excited to welcome Plaine Products into our network of sustainable brands. Their dedication to eliminating plastic waste, combined with their commitment to safe and natural ingredients, makes them a perfect fit for our community. We are inspired by Lindsey and Alison's journey and look forward to supporting Plaine Products in their mission to create a cleaner, greener world.
Discover Plaine Products and join us in celebrating a brand that is truly making a difference. Together, we can take a stand against plastic waste and work towards a more sustainable future.