An Ultimate Guide to Non-Toxic Cleaners for Salons: The Salon Chair Guys Product Range
Hello, salon owners and stylists! This is Daniel, the owner of The Salon Chair Guys, and I'm thrilled to share with you our top three salon furniture cleaners that are not just effective but also environmentally friendly.
Chrome & Metal Cleaner:
Our Chrome & Metal Cleaner is a revolutionary product that effortlessly dissolves dirt, grime, and hydraulic oil buildup on your salon's chrome and metal furniture. This cleaner is a game-changer for maintaining the pristine condition of your metal-based items. The non-toxic, eco-friendly formulation, featuring coconut oil as the primary ingredient, makes it safe for everyone in the salon while adding a polished shine to your furniture.
Leather & Vinyl Cleaner:
Your salon chairs and backwash units deserve the best care, and that's why we developed our Leather & Vinyl Cleaner. This cleaner is specifically designed to clean and soften the leather and vinyl padding on your salon furniture, enhancing their longevity. It leaves no residue or streaks behind, and its eco-friendly, biodegradable nature ensures it's safe for the environment.
Salon Chair Product Buildup Remover:
Last but certainly not least, our Salon Chair Product Buildup Remover is a must-have for any salon. This powerful yet safe formula effectively removes product buildup from salon chairs, preventing damage and maintaining the original color and fabric luster.
Sustainability is at the heart of all our products. They are biodegradable and safe for the planet, proving that effective cleaning doesn't have to come at the expense of our environment. In a world where sustainability is increasingly important, choosing our cleaners for salons means you're doing your part to protect our planet.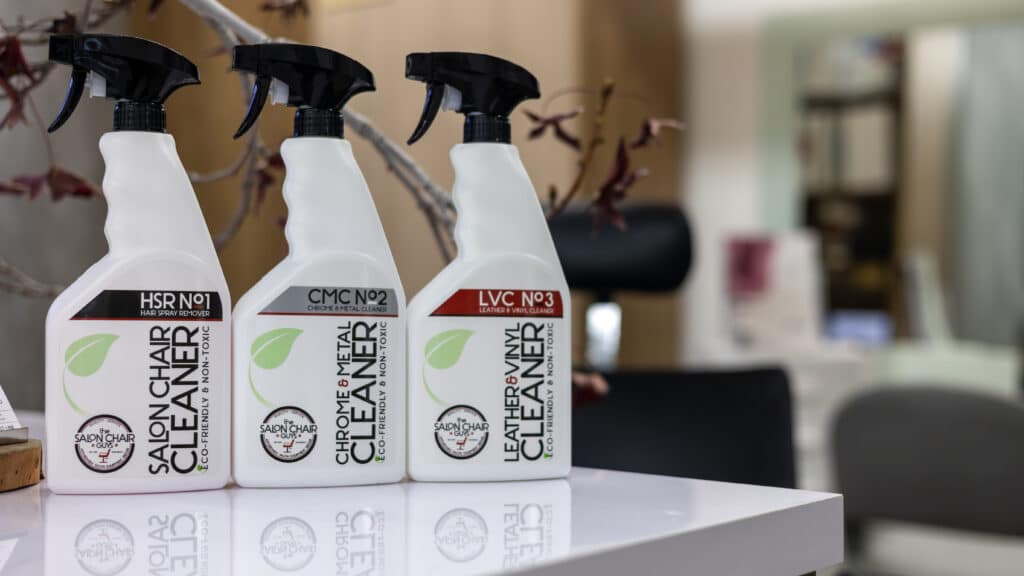 So why should you choose our cleaners for your salon? Here's why:
Non-Toxic and Safe:
Unlike many cleaning products on the market, ours are non-toxic, making them safe for you, your staff, and your clients. They are also biodegradable, which means they break down naturally without harming the environment.
Effective Cleaning:
Our cleaners effectively remove dirt, grime, and product buildup from salon furniture. This keeps your salon looking its best and your furniture in top condition, enhancing your customers' experience.
Eco-Friendly:
By choosing our cleaners, you're choosing products that are good for the planet. We believe in creating products that work well without causing environmental harm. That's why our cleaners are eco-friendly and biodegradable.
Cost-Effective:
Our cleaners are not just safe and effective; they're also cost-effective. A little goes a long way, making them a practical choice for your salon.
Maintaining a clean salon doesn't mean you have to use harsh chemicals. With The Salon Chair Guys cleaners, you can have a spotless salon and do your part for the planet. So why wait? Make the switch to our eco-friendly, non-toxic cleaners today and experience the difference for yourself.
Remember, a cleaner salon is not just about aesthetics; it's also about providing a safe, healthy environment for your staff and clients. So, invest in our salon cleaners – it's a small change that can make a big difference.
Thank you for taking the time to learn about our cleaners for salons. If you have any questions, don't hesitate to reach out. We're always here to help. Here's to a cleaner, greener salon!
Great alternative to Salon Chair Covers!