Community Spotlight: Sophia James
In the vibrant realm of the beauty industry, where creativity and self-expression reign supreme, Hair by Sophia James emerges as a beacon of inclusivity and sustainability. Nestled in the heart of the DFW area, this unique salon space, helmed by the passionate and talented hairstylist, Sophia Cochran, is not merely a place to transform your tresses but a sanctuary where every individual is celebrated and embraced.
A Journey Rooted in Passion and Purpose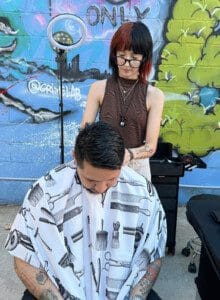 Sophia, a graduate of the esteemed Toni & Guy Hairdressing Academy, embarked on her journey in the beauty industry with a clear vision: to intertwine her fervor for hairstyling with a mission to uplift and affirm every individual who walks through her doors. With over a year of professional experience, she has cultivated a space that is not only LGBTQ+ friendly and trans-affirming but also ardently eco-conscious and low-tox.
Crafting a Safe and Affirming Space: Ritual Space
In her home salon, aptly named Ritual Space, Sophia, alongside her boss Amanda Tipps and dedicated coworkers, orchestrates more than just hair transformations. Every two months, the team curates special events, transforming the salon into a hub of community and philanthropy. These events are molded with a "pay what you can" ethos, ensuring accessibility for all, with 100% of the proceeds funneled towards a chosen non-profit, thereby weaving a tapestry of beauty, community, and kindness. Sophia can also be found at a second eco salon location, Vibed The Studio.
Sustainability: A Core Tenet
Sophia's commitment to the environment permeates through her work, with practices like recycling all hair clippings, which find a second life in aiding the cleanup of oil spills across various bodies of water. This meticulous approach to sustainability underscores a vital message: beauty and ecological mindfulness can, and should, coexist harmoniously.
Pop-Ups and Community Engagement
Sophia's vibrant energy extends beyond the walls of Ritual Space, with pop-ups sprinkled across DFW, each one a unique celebration of beauty, community, and inclusivity. These events serve as a mobile extension of her salon's ethos, bringing snippets of her transformative and affirming beauty services to diverse locales.
A Community of Support and Knowledge-Sharing
In a world often marred by competition, Sophia cherishes the sense of community within the industry. She highlights a collective, comprised of individuals like Amanda Tipps, Myrphy Peterson, and Allyson Kaler, who generously share knowledge and support, fostering an environment where good intentions and mutual upliftment flourish.
Connect with Sophia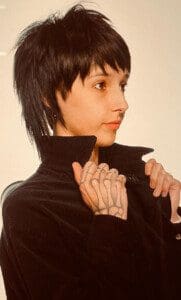 To dive into the world of Hair by Sophia James, explore her Instagram, Facebook, and TikTok. Through her platforms, Sophia not only showcases her hairstyling prowess but also shares snippets of her journey, her sustainable practices, and the heartwarming community events at Ritual Space.
In Sophia's world, every strand of hair tells a story of inclusivity, sustainability, and boundless beauty. Her endeavors remind us that the beauty industry, at its core, is not merely about outward appearances but the intertwining of aesthetic, emotional, and environmental wellness.