Introducing Frill: Sustainable Beauty Tools for Hair Artists
Hello, Green Beauty Community!
Today, we're thrilled to introduce you to Frill Beauty Tools, a brand that's redefining sustainability in the salon industry with their innovative, eco-friendly color mixing bowls designed specifically for the sustainability-minded hair artist.
Goodbye, Plastic. Hello, Fantastic!
Frill has taken a bold step towards sustainability by crafting their color mixing bowls from bamboo, a material known for its lower carbon footprint compared to plastic or wood. Not only is bamboo fast-growing, but it's also 100% biodegradable, aligning perfectly with our community's ethos of embracing green practices in beauty routines and professional work.
Why Choose Frill Color Bowls?
Durable: Frill's bamboo color mixing bowls are not only eco-friendly but also practical. With a handle for comfortable carrying and a robust design, these bowls are built to withstand the bustling environment of your salon.
Functional: Say goodbye to wobbly bowls! Frill ensures stability, even when you're getting more color, providing a steady, reliable tool for your color mixing needs. Plus, each bowl comes with a matching lightweight brush, designed for precision with its tapered nylon bristles.
Natural: Embrace the natural aesthetic and sustainability with bowls made from bamboo. While staining is expected and natural, it's also a unique feature – allowing you to make your mark and easily identify your bowl among others in the salon.
Unique: Represent your commitment to sustainability and quality with Frill. Not just a generic plastic mixing bowl, but a statement of your dedication to eco-friendly practices in your salon.
Well Loved and Celebrated
Frill encourages artists to "make your mark and stain it!" Celebrating the natural staining of the bamboo as a badge of honor, akin to the stained tools of a canvas artist. They invite you to showcase your unique bowls and their stains by tagging them on Instagram @frillhair.
Upgrade Your Salon Today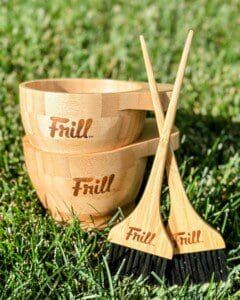 Frill is not just offering a product; they're providing a way to upgrade your salon's sustainability and showcase to your clientele a commitment to eco-friendly practices. With free shipping on all orders over $48 in the United States, it's a step towards greener practices that's accessible and practical.
In a world where every step towards sustainability counts, choosing Frill is choosing to be part of a movement towards a greener, more sustainable future in the beauty industry. Let's welcome Frill to our community and explore the fantastic, sustainable options they bring to our professional and personal beauty practices!